Act Like A Lady, Think Like A Man
Thursday, February 19, 2015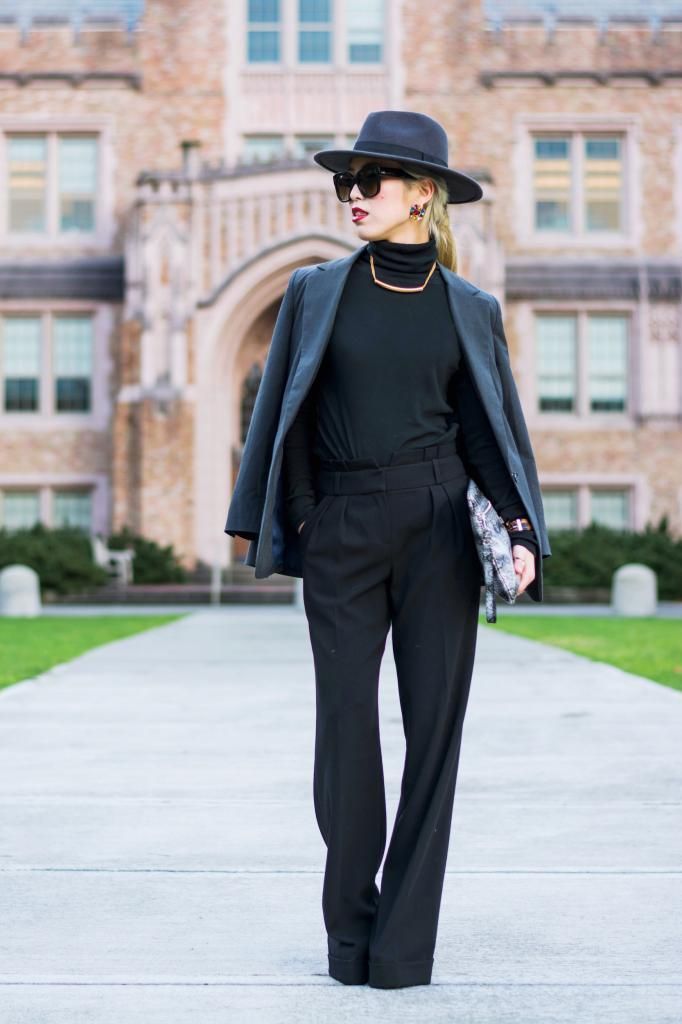 Song of Style
was super flattering in
her mens inspired look
. She killed it! Wearing something inspired by menswear could definitely be one of my Fashion Week attire options. So that's what it is all about in today's look because I wanna be there, even if only in spirit! Wink-wink!
I've longed to style this type of look for a long long time, and I finally made it happen! You have no idea how much I love this look! I tried to keep it simple yet bold at the same time by pairing a turtleneck with tailored wide leg pants. I actually got this blazer a couples of years ago in the menswear section at American Eagle, and it's kinda funny that it fits me perfectly. After all, I am super petite! Topping it off with a fedora is definitely a must when you wanna go for a masculine look, and since I have a long hair, I styled it in low ponytail with straightened hair. I still wanted a smattering of lady-like flair, so I finished the look off with red lips, jeweled earrings, and
gold bangle necklace
. I love putting on black sunglasses to gives the ensemble a 'gangster' look! haha
Would you wear a menswear inspired look like Aimee and I?
Happy Thursday darling!




_________


Thank you for reading!!!!
XOXO


☆ ♥ ☆ ♥ ☆ ♥ ☆ ♥ - STAY FASHiONABLE, STAY UNiQUE - ♥ ☆ ♥ ☆ ♥ ☆ ♥ ☆