Grid Over White Out
Saturday, August 23, 2014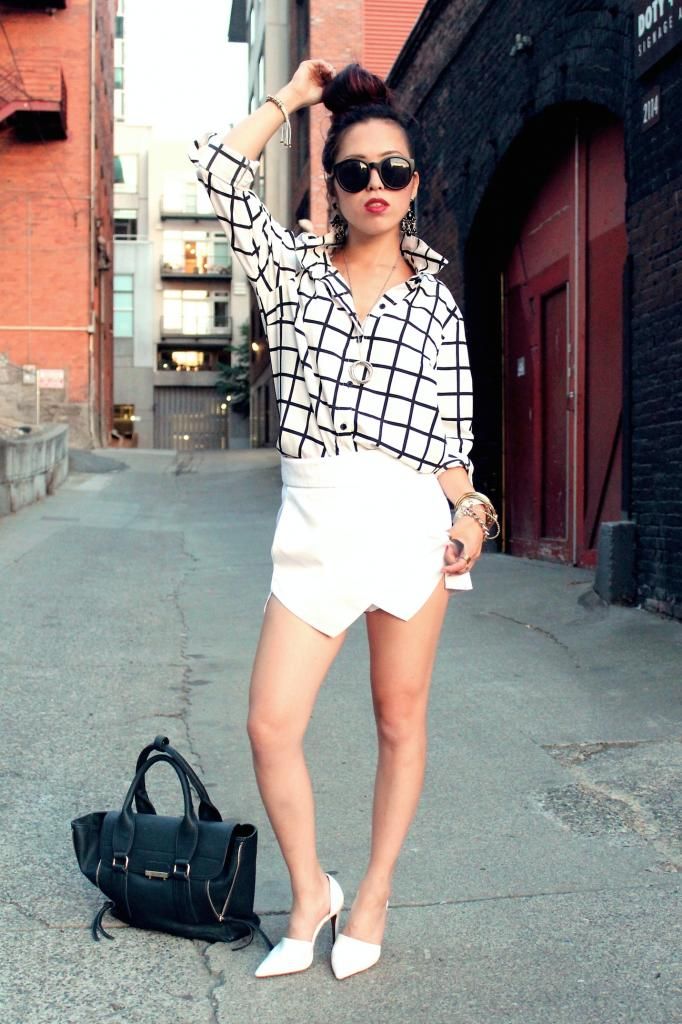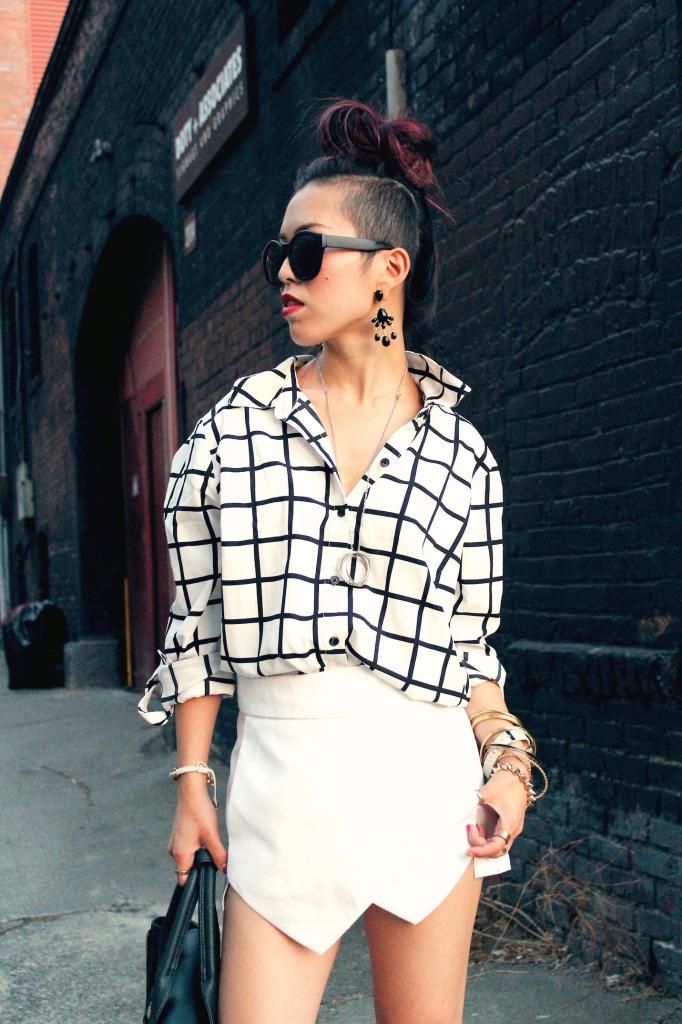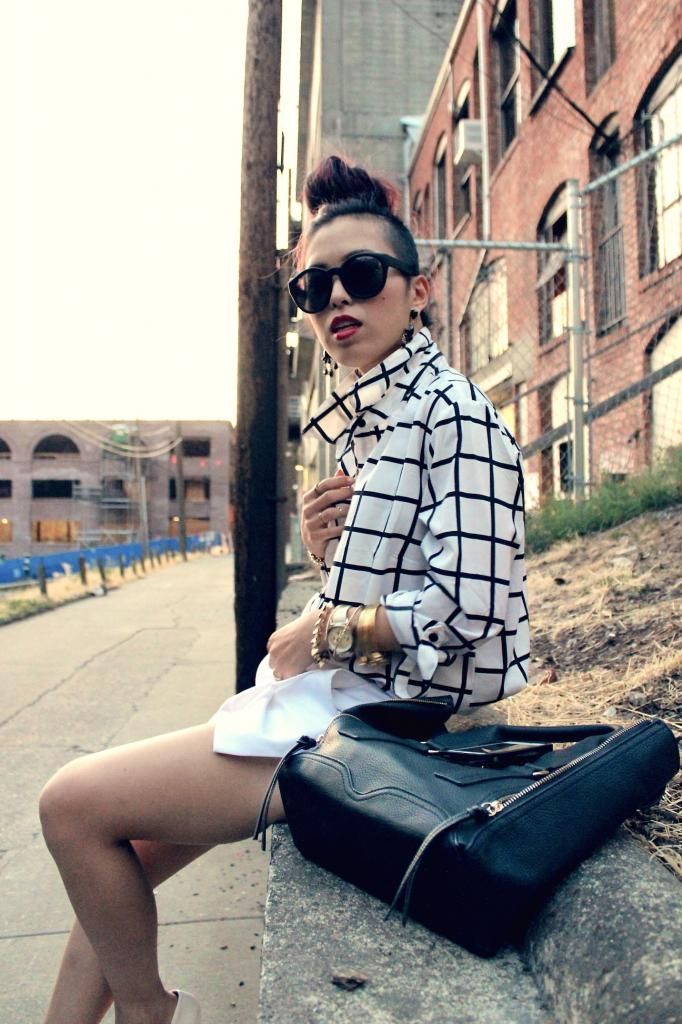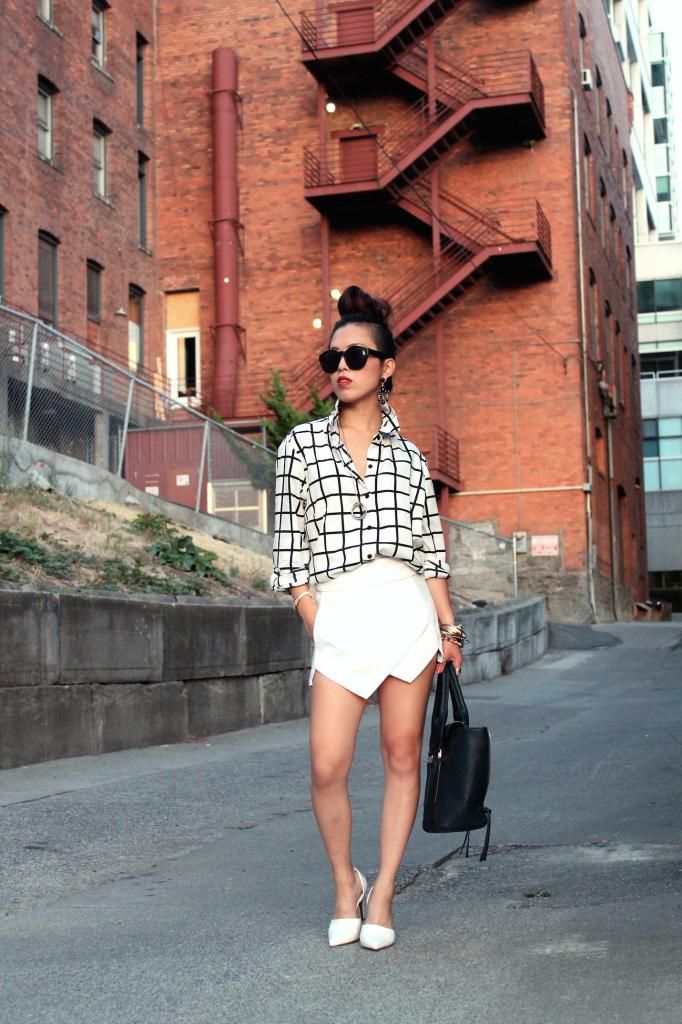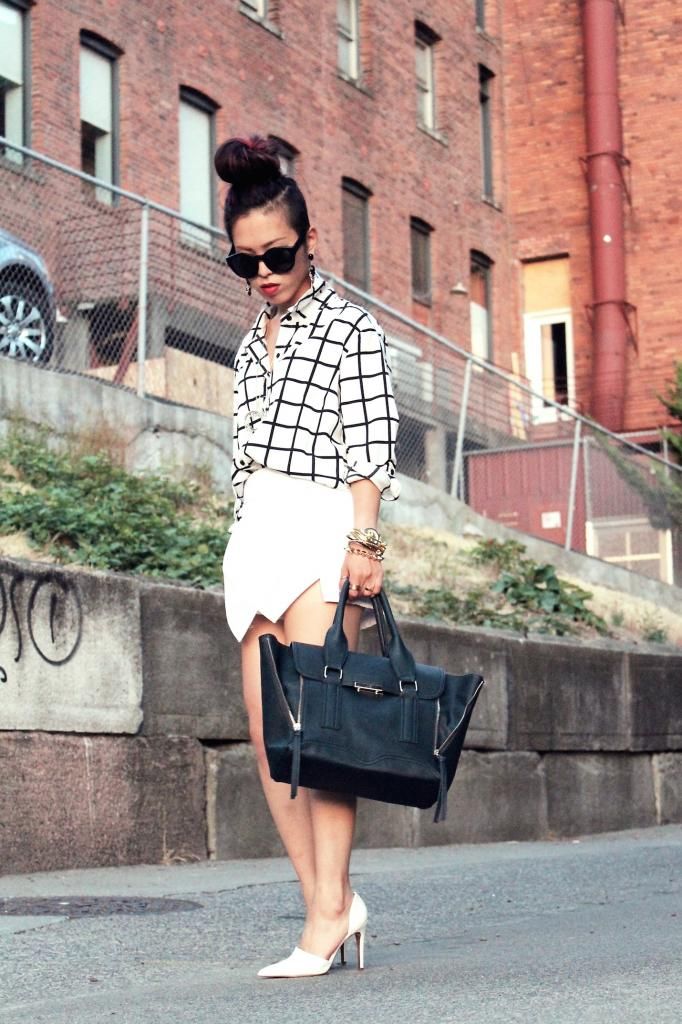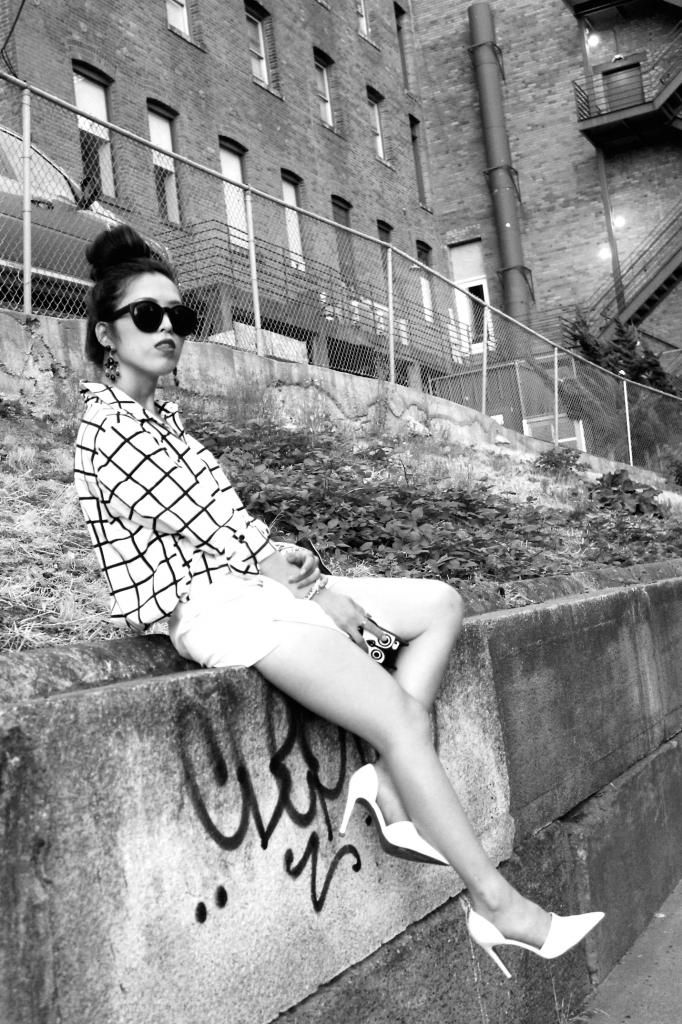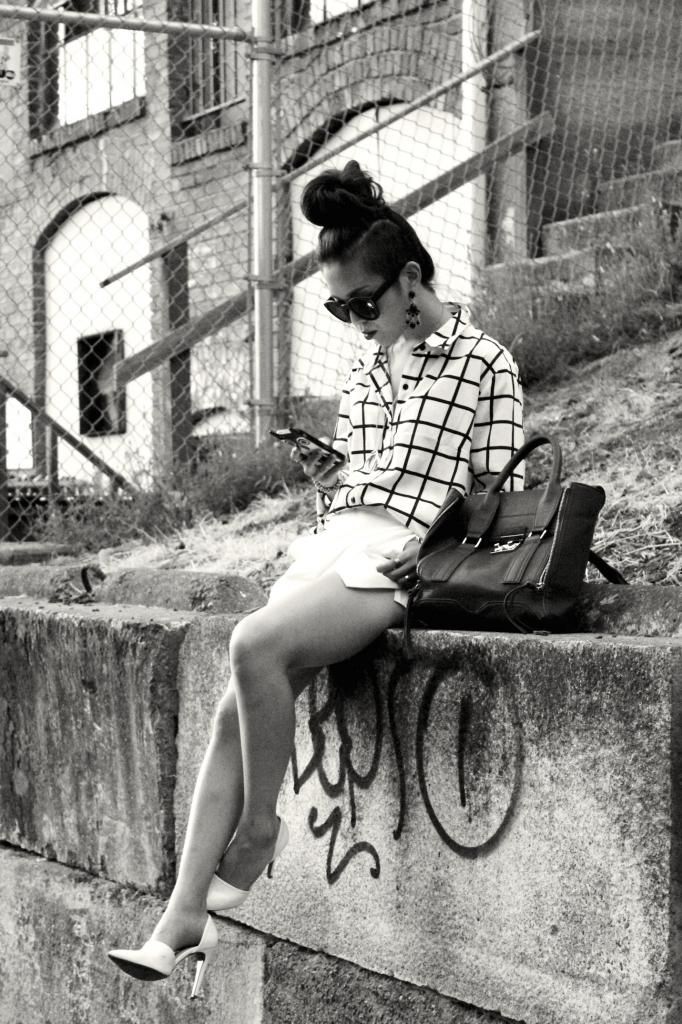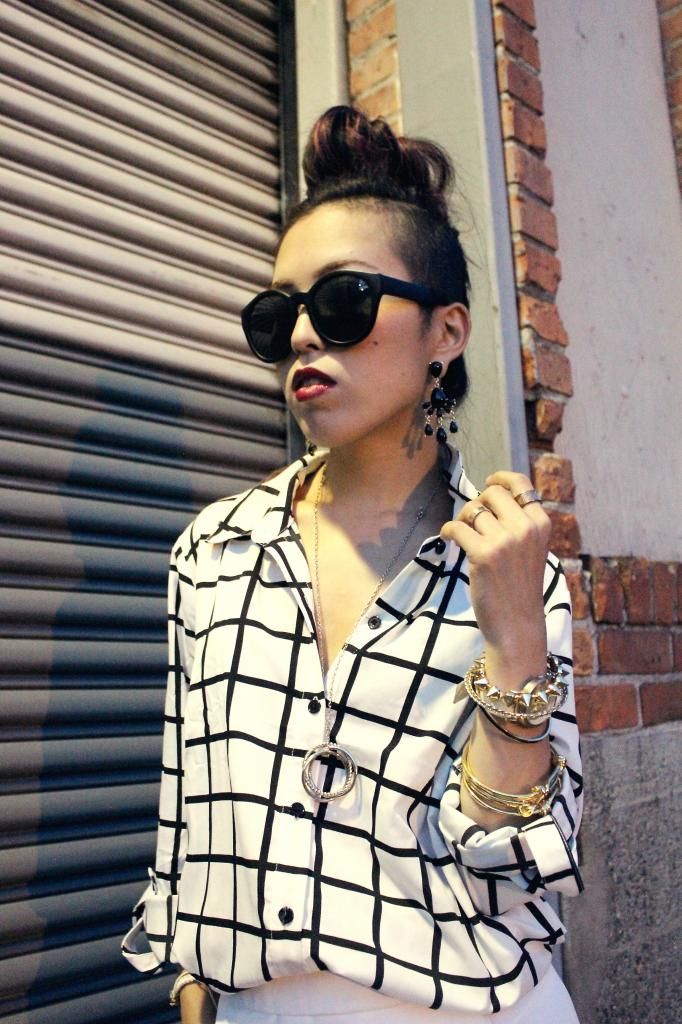 Photographed by Benjamin Widdowson // Alley Near Dotty + Associates
RETRO SUNGLASSES (Similar Here or Here): Free People
GRID PRINT SHIRT (Similar Here or Here): Forever 21
ORIGAMI SKORT & POINTY PUMPS (Similar Here or Here) : ZARA
DROP EARRINGS: Charming Charlie
TOTE BAG: JustFab
NECKLACE: From My MOM
______________
Hi LOVEs!
It's finally the weekend! I hope you have made fun plans!
I beleive that you have seen a lot of previous looks that feature "ALL-WHITE" over the last few months, and yes the strenth of that awesome ensemble has never diminished for me. It actually gets greater and greater. And here you go, another one again. I think all-white looks are definitely the new black, but this time I added a little twists into it: Wearing the grid print shirt.
I haven't worn a shirt for a long time, and now the weather is shifting to more chilled temperature. It's time to cover up with your favorite shirt and be ready to rock in the fall. I got this cool shirt last year from
Forever 21
, and it didn't take any time at al to fall in love with it. I think you know why. Of course I like a plain shirt, and this shirt is more like something else. It's a versatile piece, and as the weather gets colder, I love layering it with a bright sweater. Once you put it on, you instantly have a playful look. I actually styled up with a plain white shirt first, but I felt like it was missing something. Then, I changed it into this grid print shirt, and boom! It got me to the next level of a 'white-out' ensemble.
I kept the white and black hue going by wearing my favorite black sunglasses and white pointy pumps as well as drop earring with some gold jewelry, which I am currently in love with over silver accessories. To make the look pop, I accessorized myself by adding a red lipstick as a final touch.
I am so thrilled to welcome fall soon and the enjoyment that comes with wearing layers and rocking my adoring boot collections!! I am debating whether to buy a pair of knee-high boots already! What do ya think? My brain is totally filled with tons of fall inspirations of what I will be wearing these coming months!! Are you guys ready?
Thank you so much for using your time to read my blog! Hopefully I can entertain you through my "unique" looks and that will be enough to support and follow
AikA's Love Closet
♥





______________



♥ ☆ ♥ ☆ ♥ ☆ ♥ ☆ ♥ STAY FASHIONABLE, STAY UNIQUE ♥ ☆ ♥ ☆ ♥ ☆ ♥ ☆ ♥

Thank you for reading!!!!

XOXO