Rosey White Out
Thursday, July 24, 2014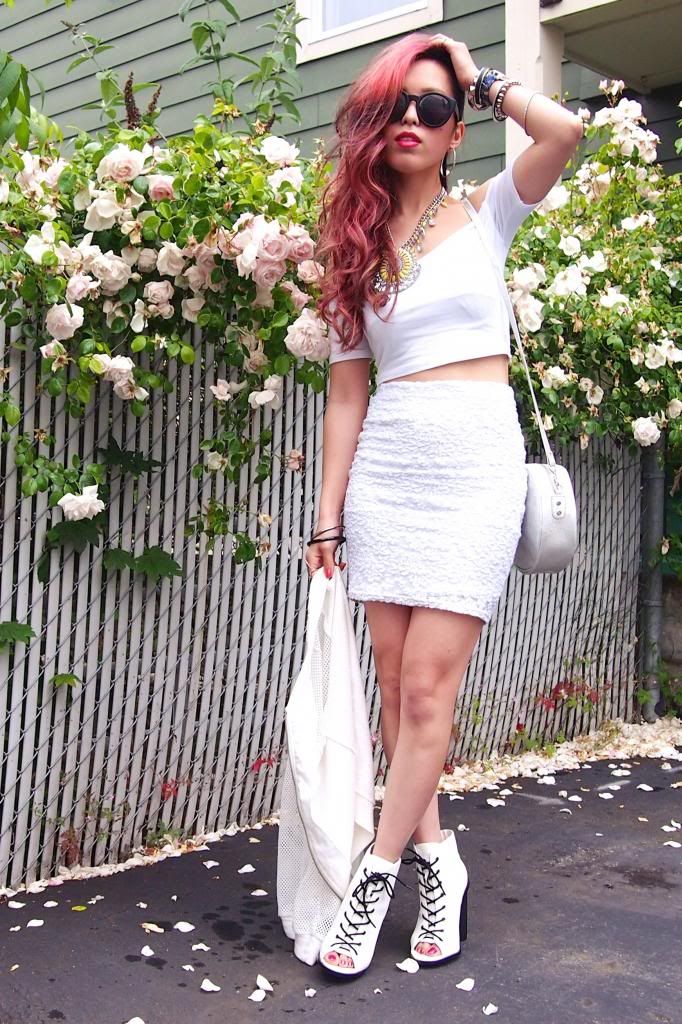 OFF-SHOULDER CROP TOP: ASOS
LACE MINI SKIRT (similar here or here ): TOPSHOP
MESH SLEEVE BOMBER JACKET: Urban Outfitter
ROUND BAG:H&M
RETRO SUNGLASSES: Free People
STATEMENT NECKLACE: Bad Kitty
OPEN-TOE LACE-UP BOOTIES (similar here): Shoe Cult By Nasty Gal
Hi LOVEs!!!!
I am so happy that I finally have a chance to share this all-white sporty-inspired look with you guys! I thought I lost the SD card that had the photos on it, but I found it as I was packing for my recent move!! It sucks to lose something, but the moment when you find, it is such an absolute relief.
I wore this look a month ago when I went to a fashion event at
Zebra Club
! In my previous post, I mentioned that I want to enjoy the bright summer days by wearing with vivid colors as much as possible, and I think whites can be counted as vivid, too.
When I got these awesome open-toe lace-up booties, this looks instantly popped into my head. Since my hair is pink now, I thought it would be fun to mix up a theme of sweetness and sportif all together. I am totally in love with this combo! While an off-shoulder cropped top and a lace mini skirt emphasize the femininity, it doesn't look too girly and is actually more bouncing and lively because of the bomber jacket and lace-up booties.
Personally, I believe an all-white look can be transformed into an expensive, crisp appearance when paired with gold accessories. However, I styled this one up with silver jewelry this time because I was eager to wear this gorgeous statement necklace from
Bad Kitty Accessories
that definitely gives some WOW to this look!
If you follow me on Instagram (@aikaslovecloset), you know that I recently toned my hair to bring back a mermaid look again. I have no words to express how much I love this color at the moment. I am planning to make a post regarding my new hair color, so look forward to it!
One last note, I am performing at
the Seafair Torchlight Parade
this coming Saturday, the 26th. This is my third year performing, and this time I am assigned to be the leader of a flag team (We also have a dance and brass band group!) I've been working so hard towards the parade since March, such as choreography, practices, leads meeting, and etc... It's been some crazy and hectic days, but all I am overflowing with full of excitement! I am lined at the top to lead the whole group which is more than 100 people! Isn't it thrilling? If you are in Seattle this weekend, please come watch me downtown!!! I bet you will have lots of fun :)



________________________



♥ ☆ ♥ ☆ ♥ ☆ ♥ ☆ ♥ STAY FASHIONABLE, STAY UNIQUE ♥ ☆ ♥ ☆ ♥ ☆ ♥ ☆ ♥

Thank you for reading!!!!

XOXO